Jesse & Emily in the Behati
With a vision of a relaxed style wedding with picnic rugs, low tables and an endless supply of margaritas and guacamole - Jesse & Emily's dream wedding came to life along the coastline of Crescent Head.
What is a Grace Woman to you?
Adventurous, fresh and lively. A woman of style who isn't afraid to be herself with a beauty that shines from within.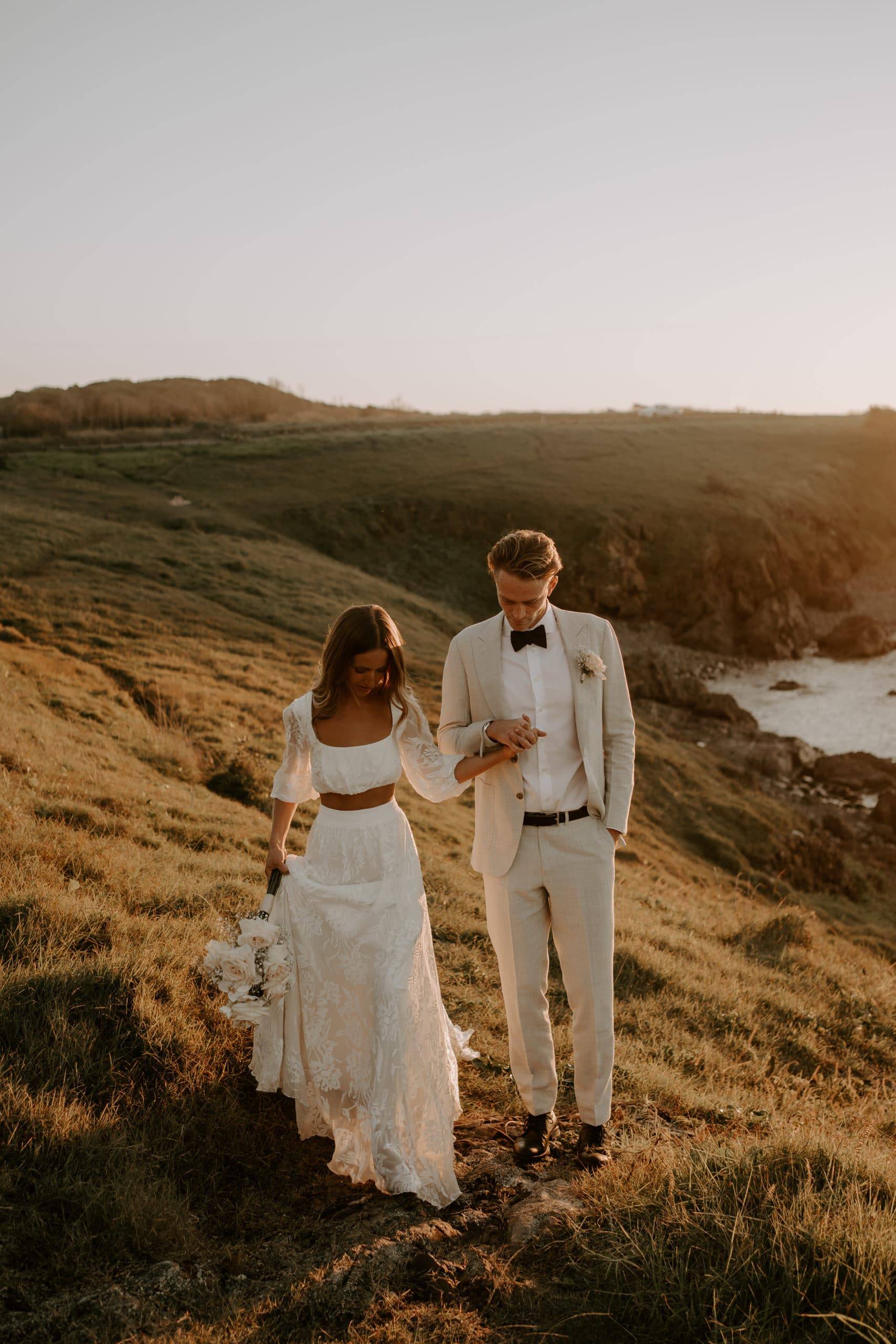 Which Grace dress did you choose and how did you know it was 'The One'?
From first site I fell in love with the two-piece Behati gown. I had never seen anything like it and knew instantly it was the one. When I began the dress search, I didn't know what I wanted to wear but I wanted to be able to run in bare feet and comfort with a beautiful flowy skirt chasing me. I chose Behati because I knew I could be myself and I could not have envisioned a more suitable gown.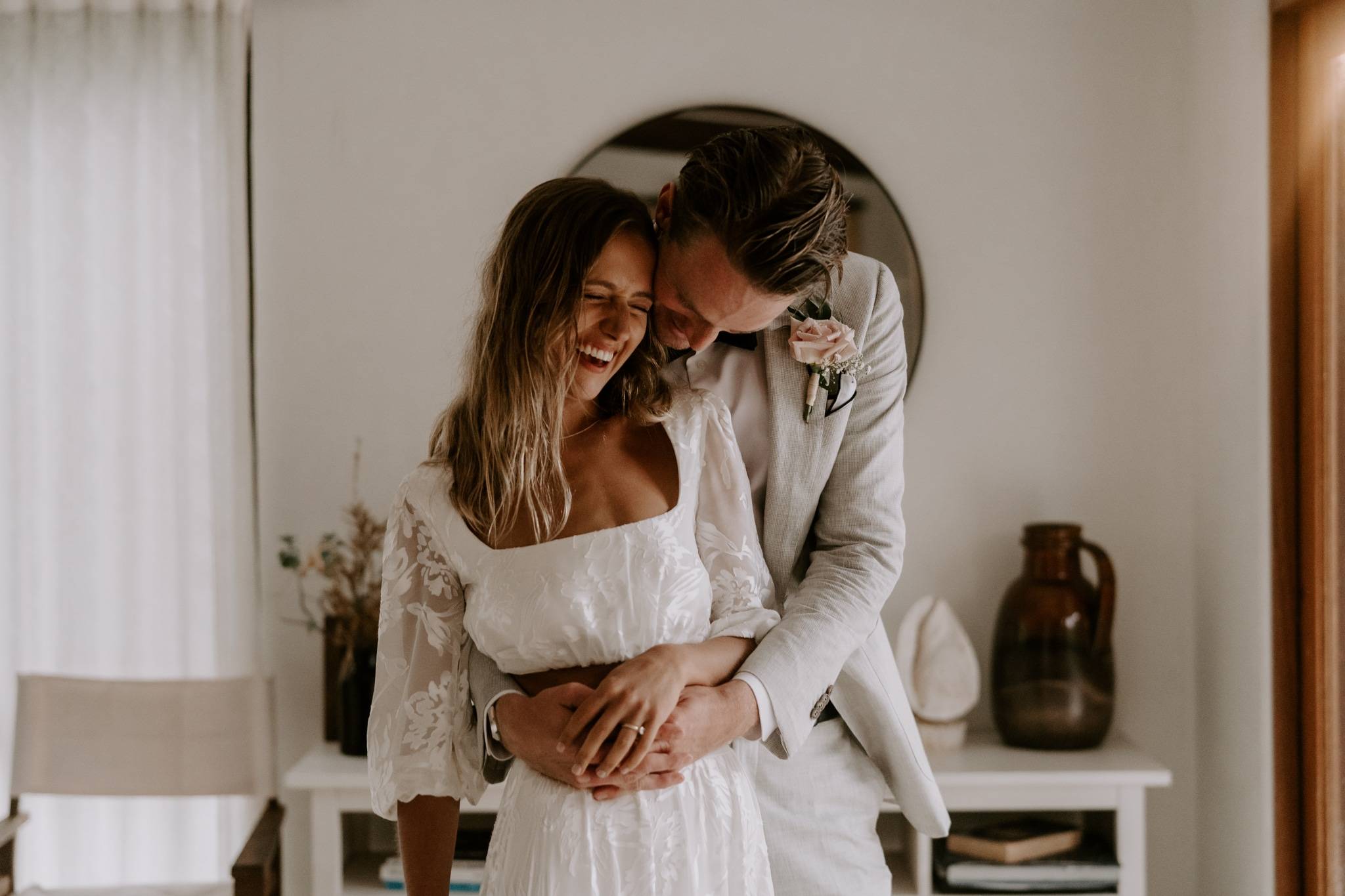 Tell us about your experience when you found your dress, did you buy your wedding dress online or in one of our showrooms?
Behati is only available through the made-to-order online store. This meant not being able to try it on before I purchased. I thought it was a little bit risky, but I had fallen in love with the style and knew nothing else would compare. I left this very important detail until 6 weeks before the big day however the GLL online stylists were beyond amazing. The girls helped with how to measure my size, offered phone consults to further discuss details and even sent through extra photos of staff wearing the gown so I could see how it fitted on different body types. The gown arrived just in time for the wedding and it was absolutely perfect.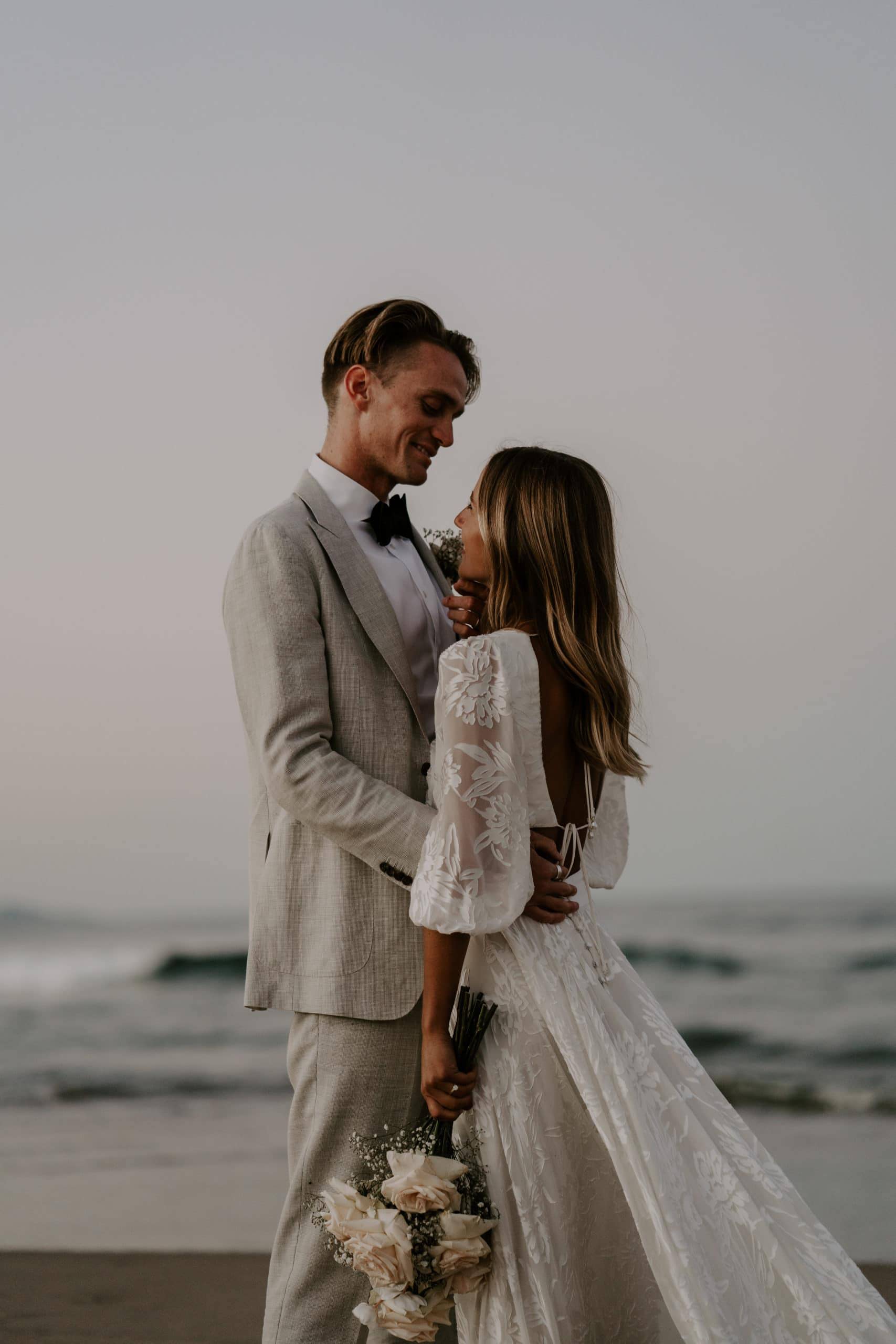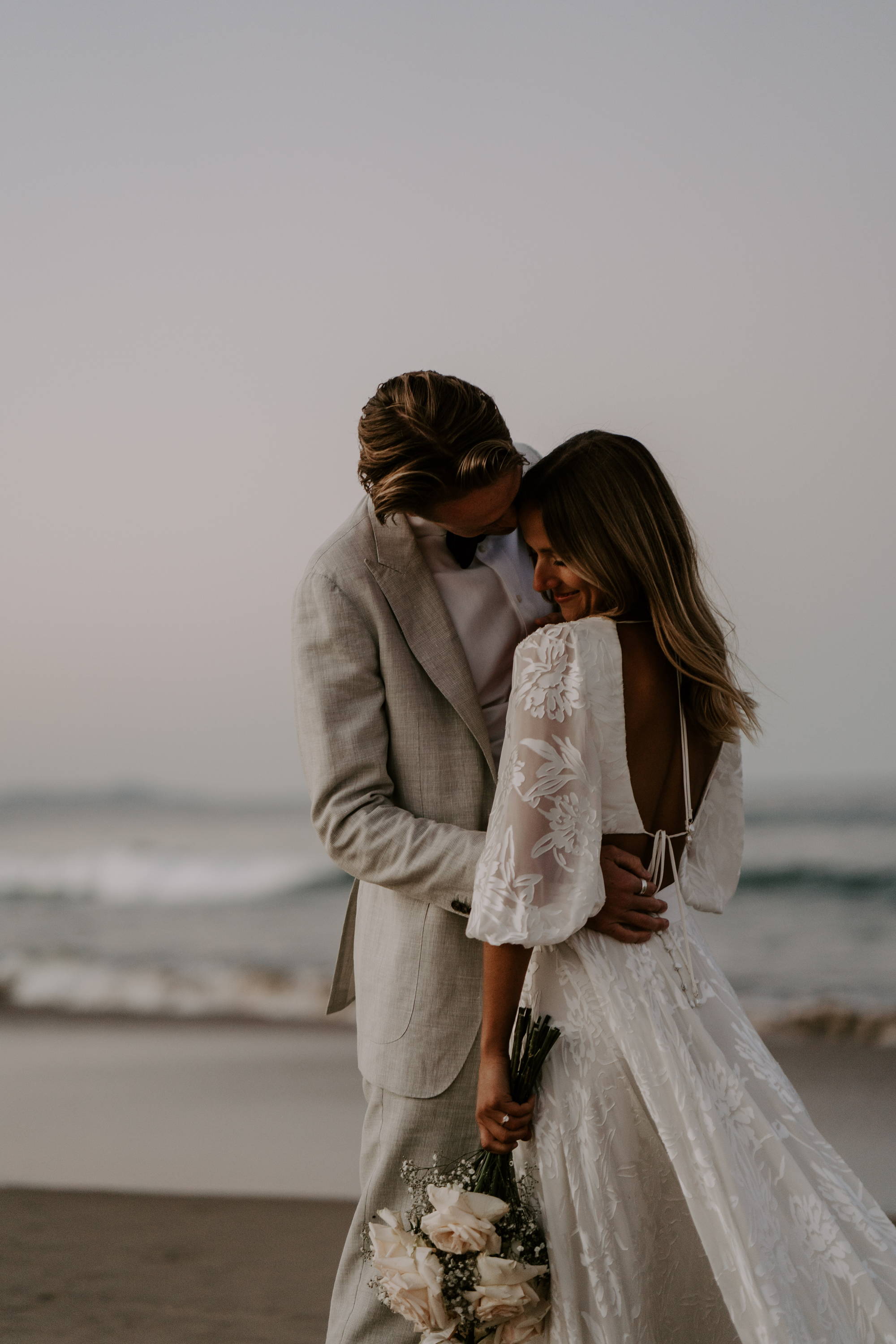 How did you feel in your dress on the day?
I felt myself. Truly confident and extremely comfortable, I knew I could relax all day and dance the night away without having to change a thing. I felt so special in my gown and I couldn't wait to walk down the aisle and finally show my Husband.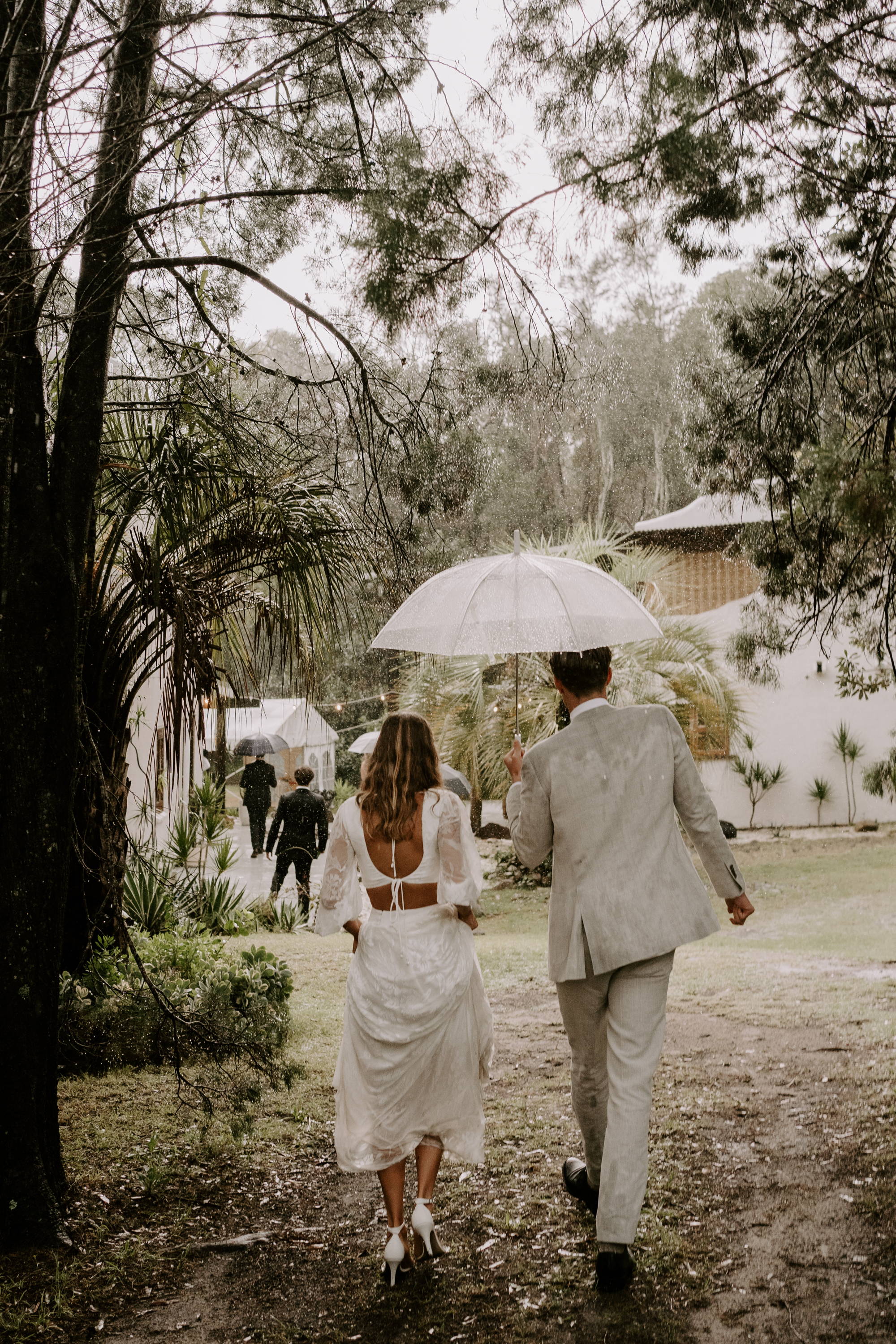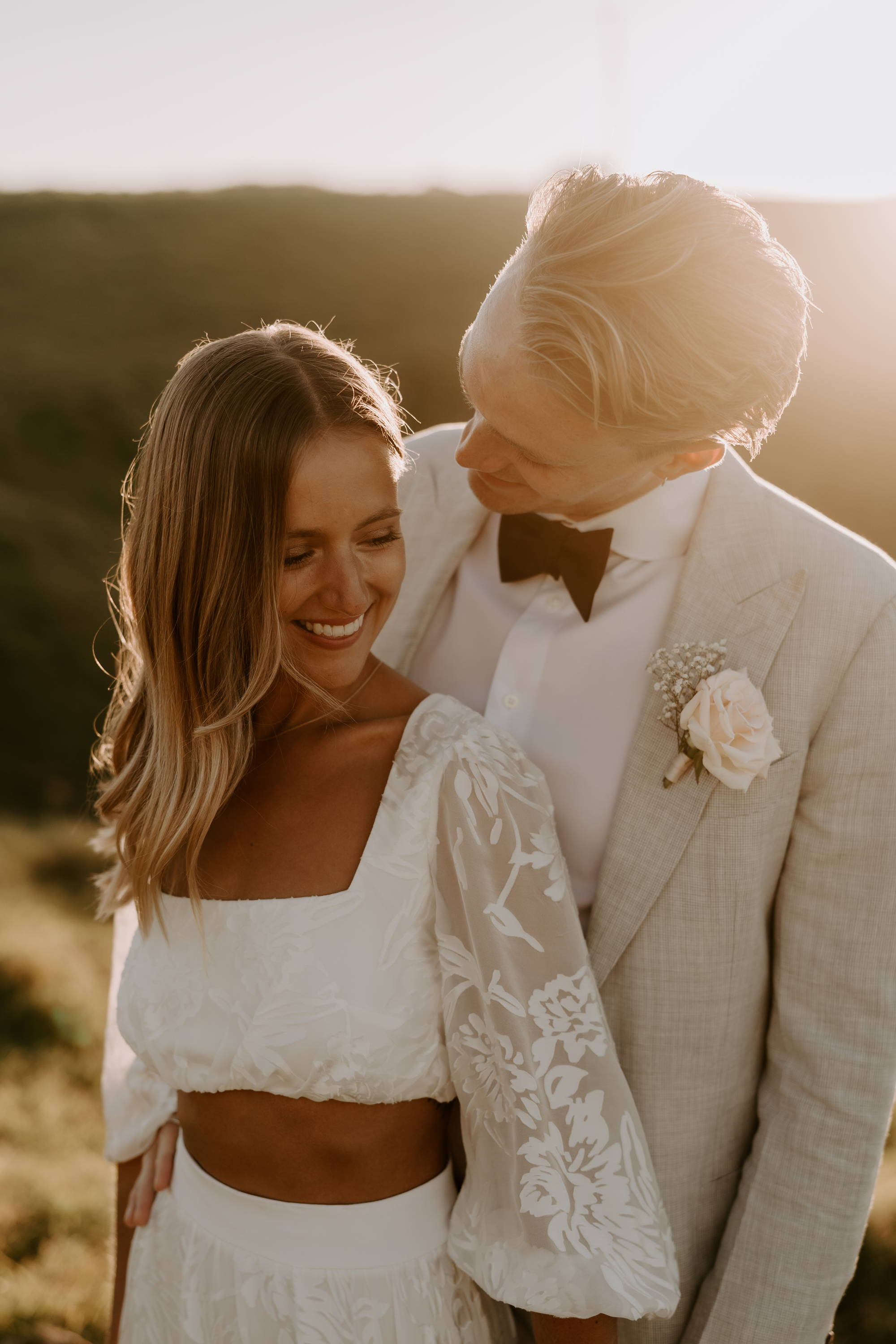 Where did you get married?
Tell us about the location & the style of your wedding day.
We got married at the beautiful Casa Mio Surf Hacienda in Crescent Head. We took a lot of inspiration from our recent trip to Mexico and wanted to incorporate that styling throughout our day. We envisioned a relaxed style with picnic rugs, low tables and an endless supply of margaritas and guacamole. Walking into Casa Mio for the first time took us straight back to Mexico so we locked it in and began our planning.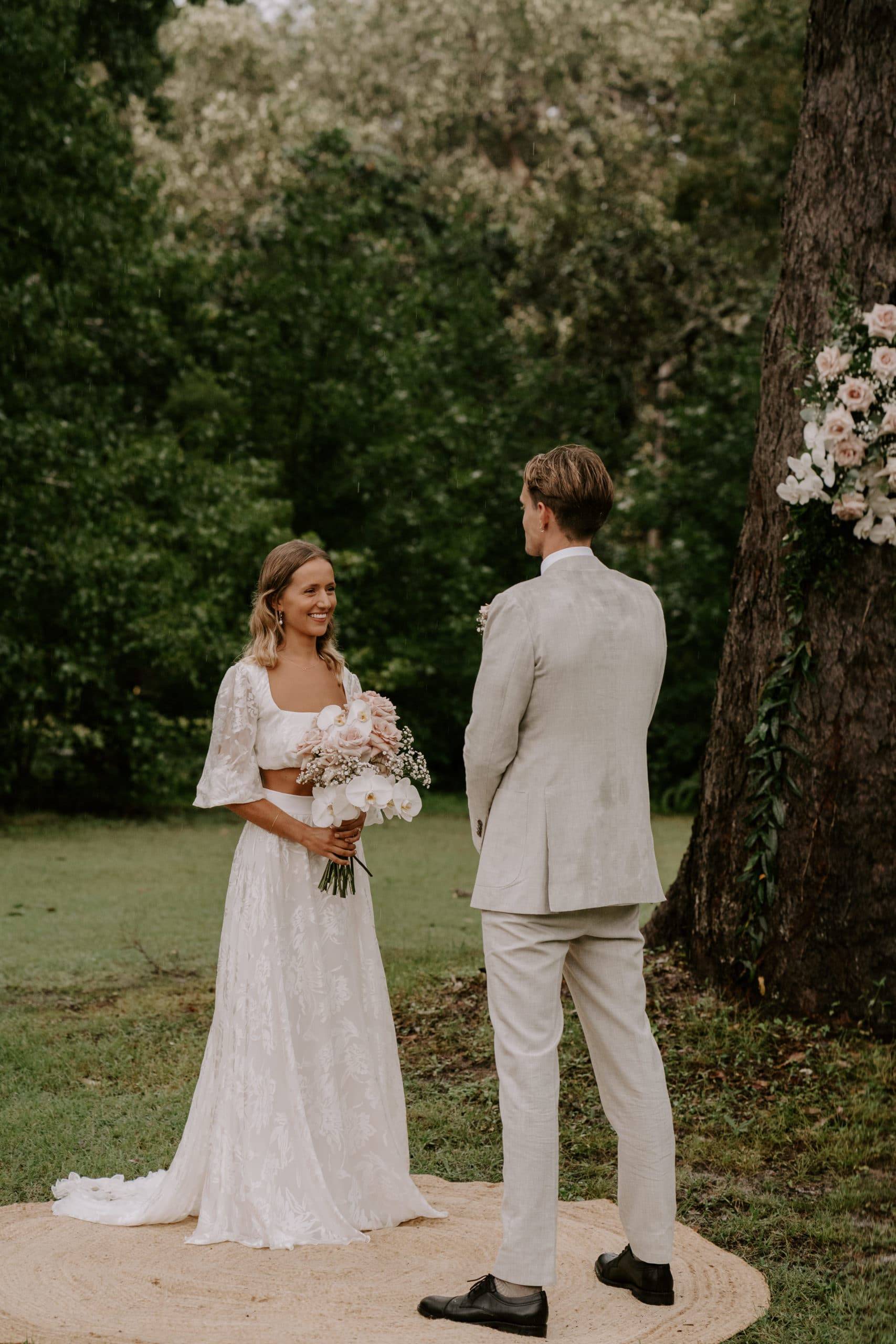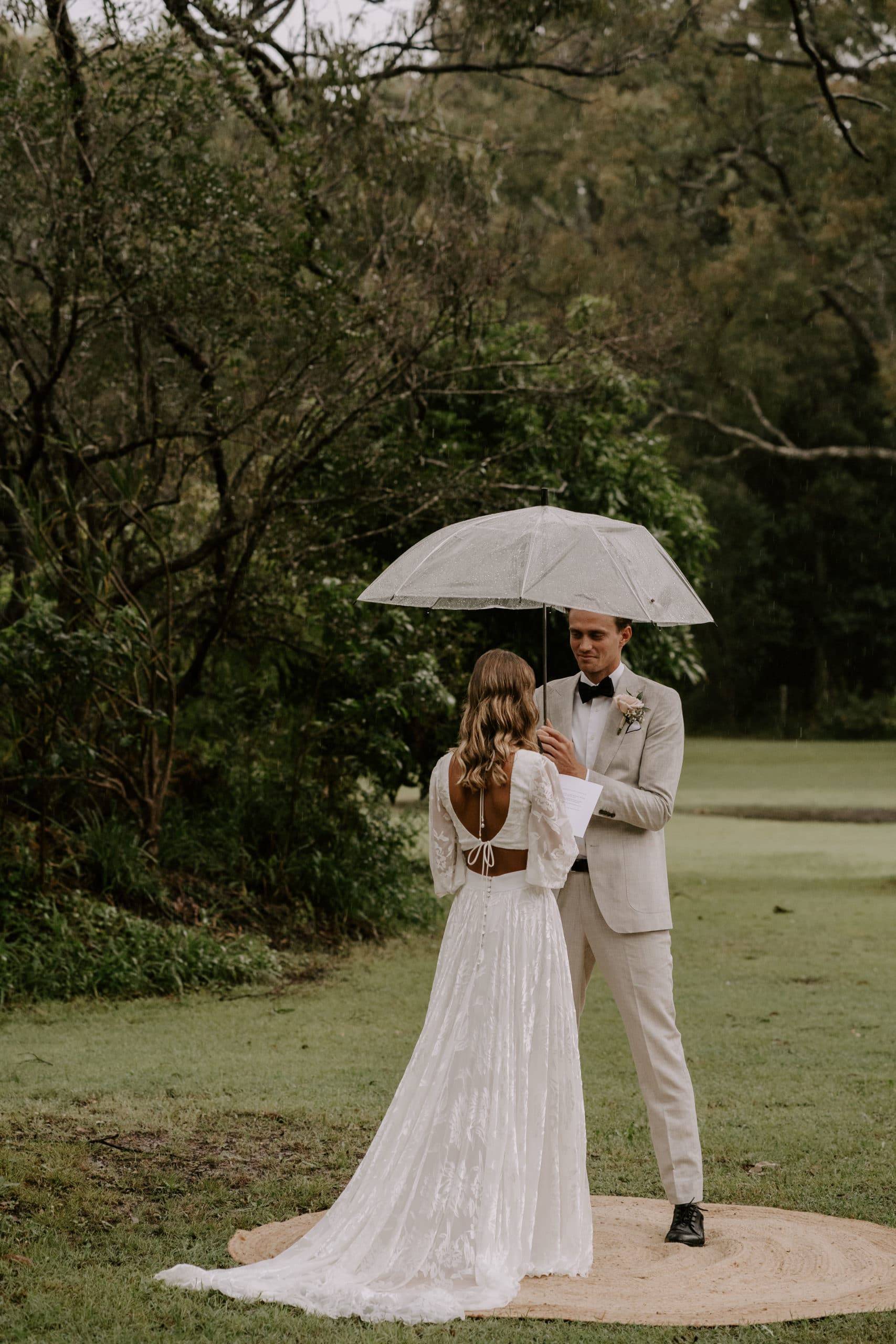 Tell us about your hair and makeup look
and the accessories you chose…
I am not often found wearing makeup, so I wanted to keep it all very simple. I wore a rosy brown matte lipstick, natural eyes and a light foundation. I left my hair out with a few loose curls which actually managed to withstand the rain all day. I paired my Behati gown with the matching GLL Sade Earrings and the Dosa Heels in white. I wore a small gold dainty necklace and a similar bracelet which I was gifted by my mum.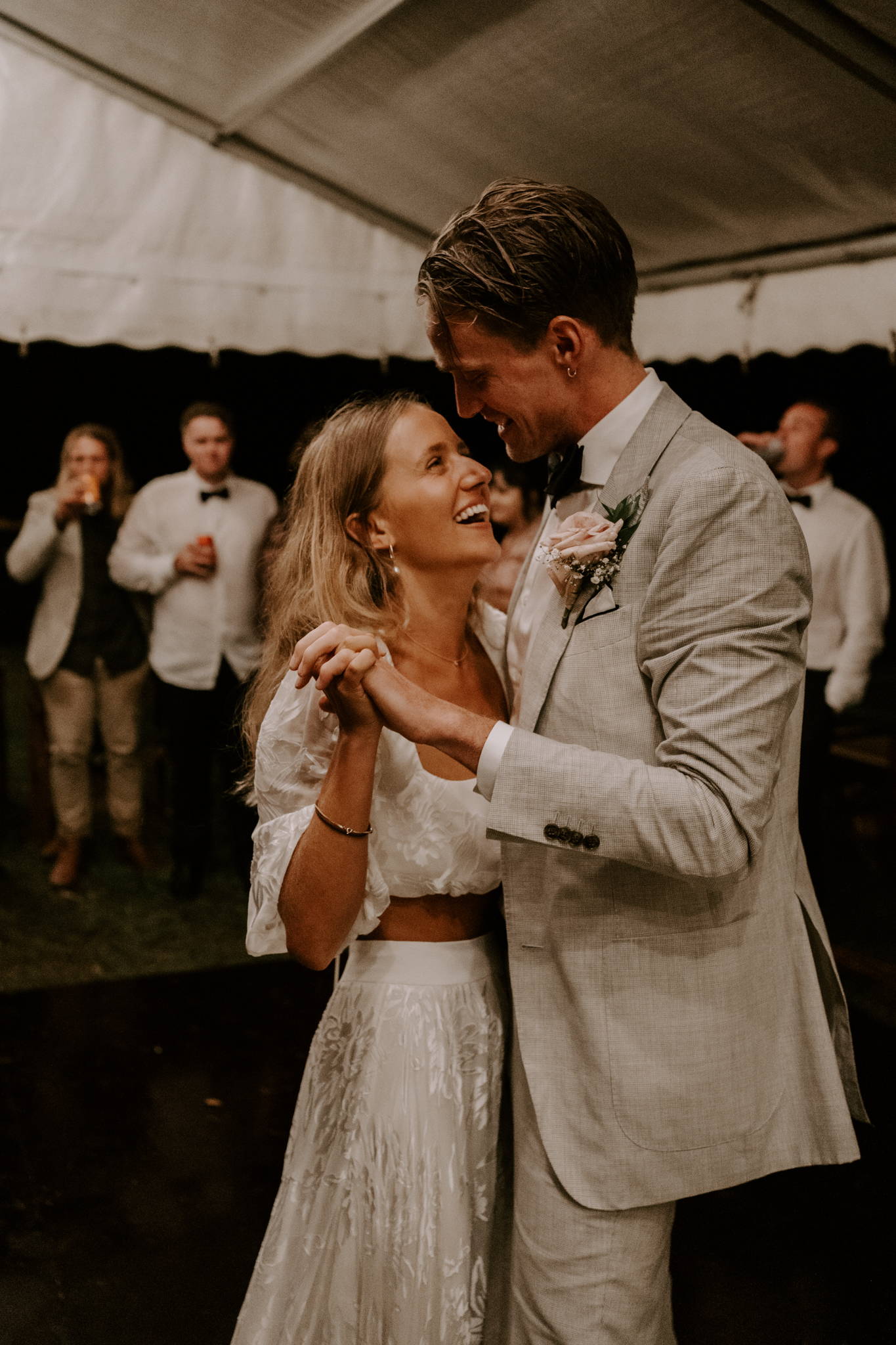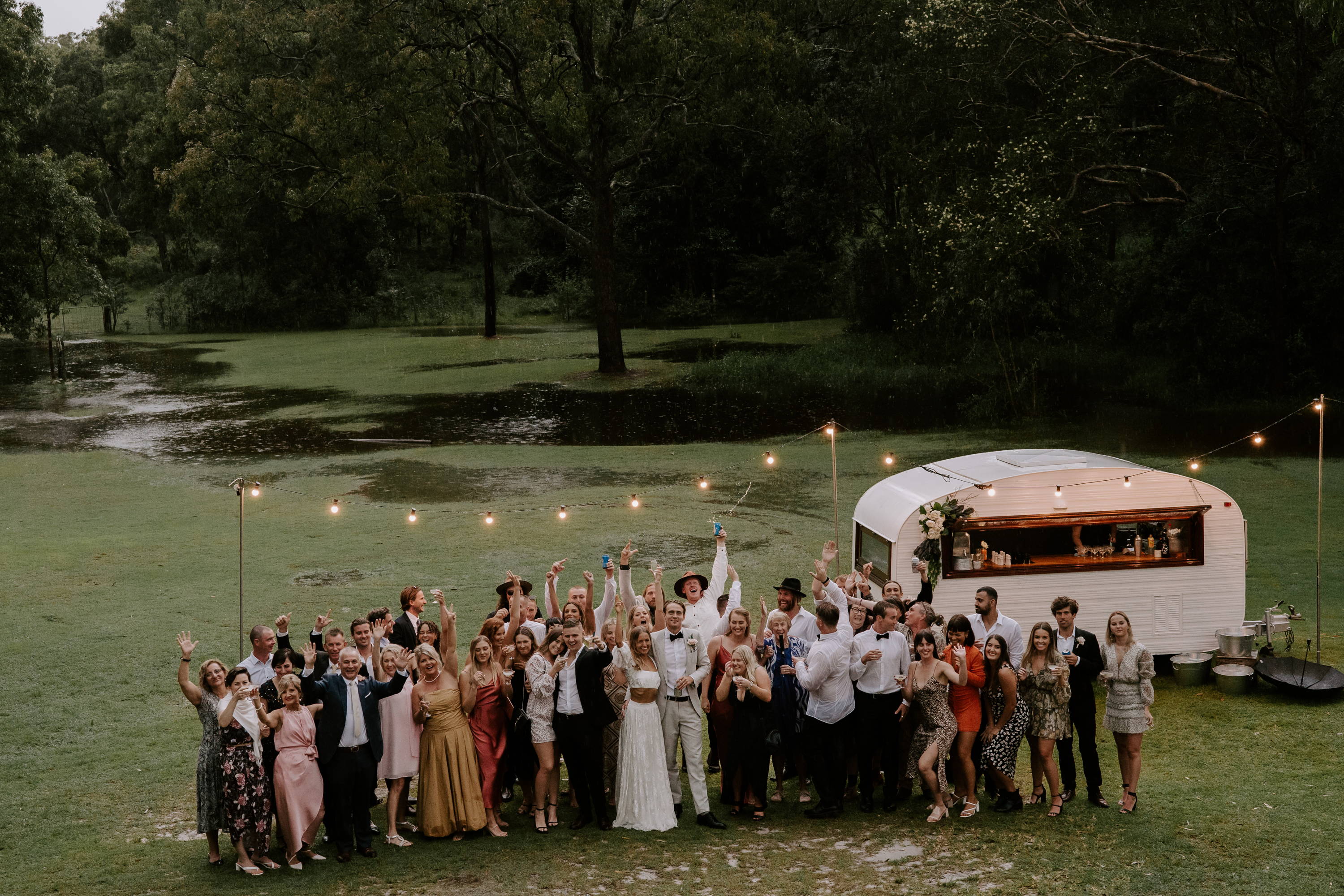 What made your day extra special?
Although it was not the weather we dreamed of the rain and thunder created such a magical atmosphere that will not be forgotten. We had festoon lights set up around the lawn which just really stood out on such a gloomy day. It made it feel extra special especially when Jesse and I shared a little rain dance under the lights.
The funniest moment on the day was…
It would probably have to be returning to the reception after having a few photos taken, to a little karaoke session that had started amongst our guests. Everyone was laughing, embracing the wet weather and performing their hearts and souls out.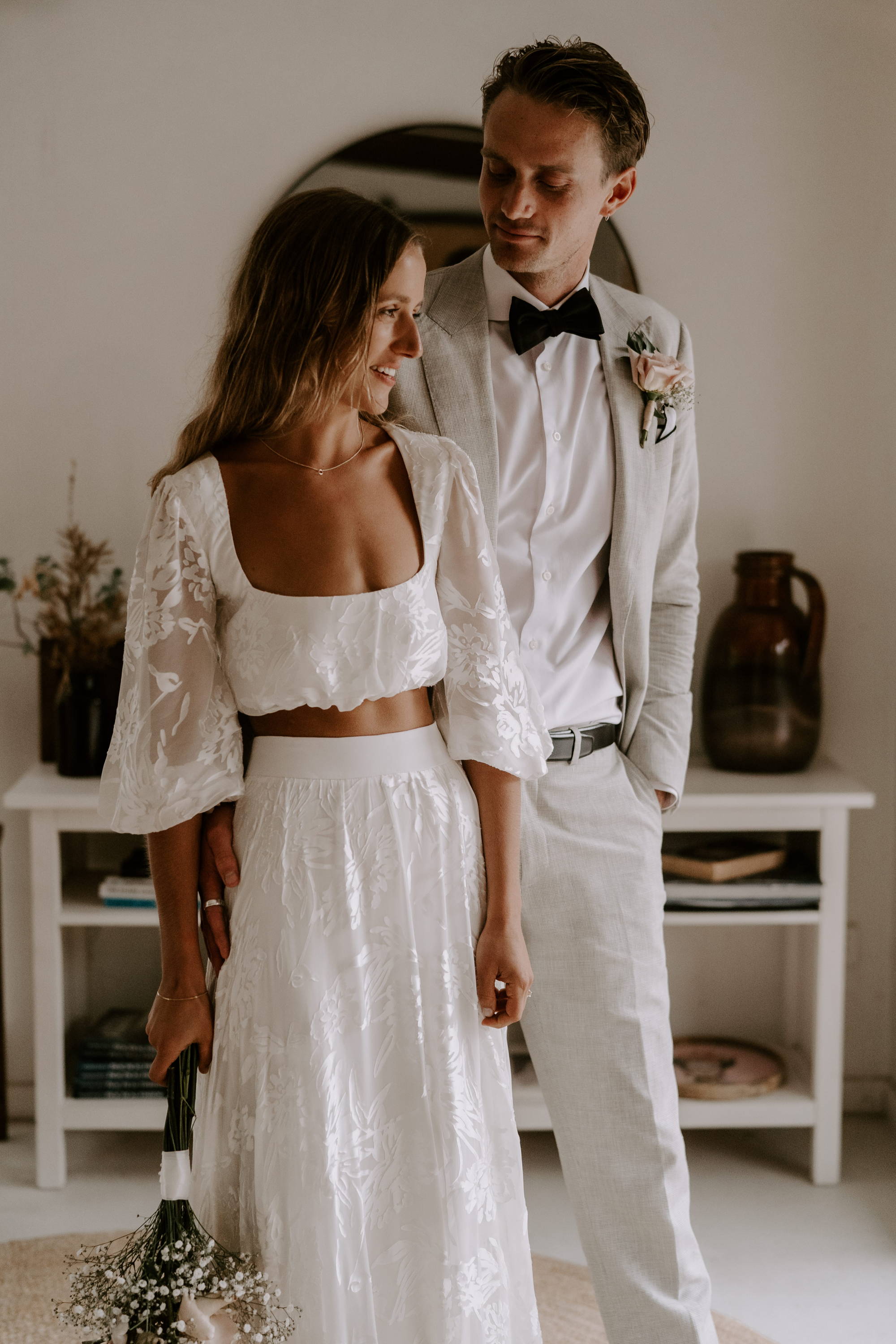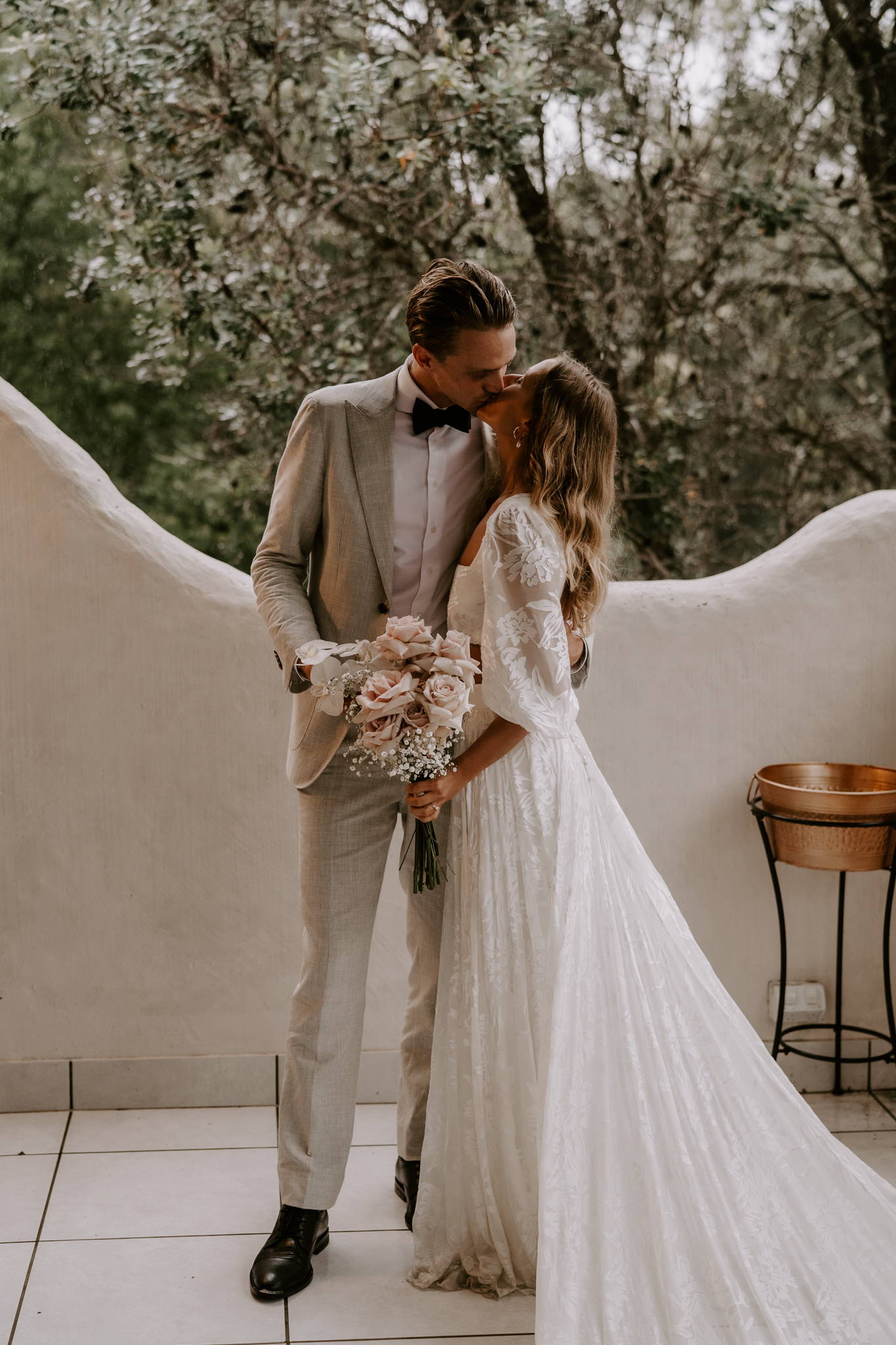 Where will you be honeymooning?
We are currently planning a van trip around the South Island of New Zealand. We are looking forward to being outdoors amongst the beautiful scenery, visiting glaciers, exploring the coastline and tasting all the local food and wine.
Any last advice or words of wisdom that you can share…
Be true to who you are and embrace every single moment because no matter what the day holds your marrying your best friend in the gown of your dreams.