"Just after purchasing the dress, we found out I was pregnant. I was so glad to have chosen a dress that was stretchy and not restricting (and it somehow managed to fit even at 19 weeks pregnant)."- #GRACEBride Ellie Surrounded by the rolling hills of the gorgeous Hunter Valley, Josh & Ellie took the plunge, as they welcomed their newest family member, who was on the way.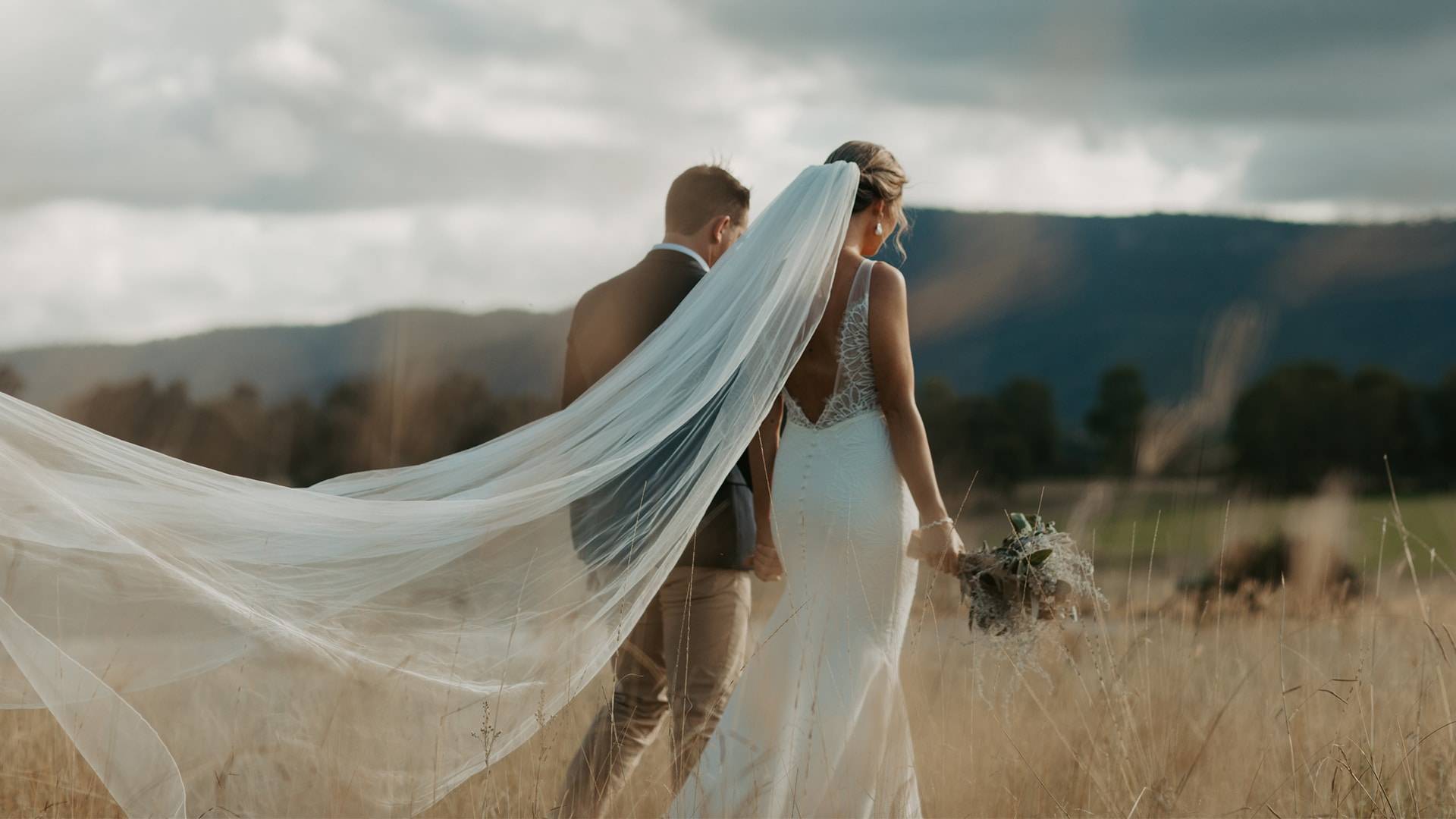 What is a Grace Woman to you?
Someone who values style, buttery soft material and comfort and knows they don't have to sacrifice on any of these for their dream dress!
Which Grace dress did you choose and how did you know it was 'The One'?
I chose 'Lena' with the Henri veil. I was looking for a dress that was elegant, backless and had a really complimentary silhouette. From the moment I tried it on it couldn't wipe the smile off my face (or my mum's!).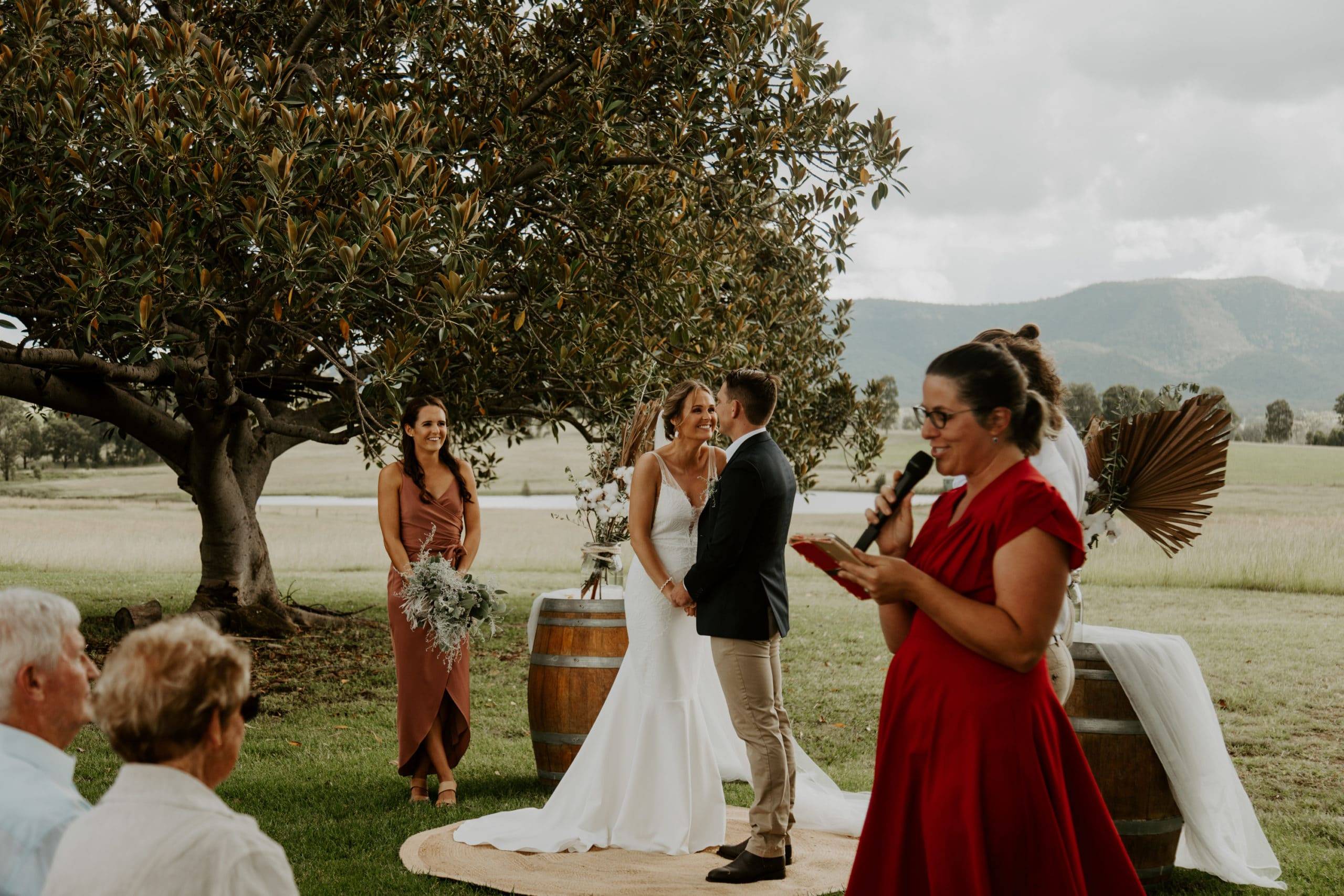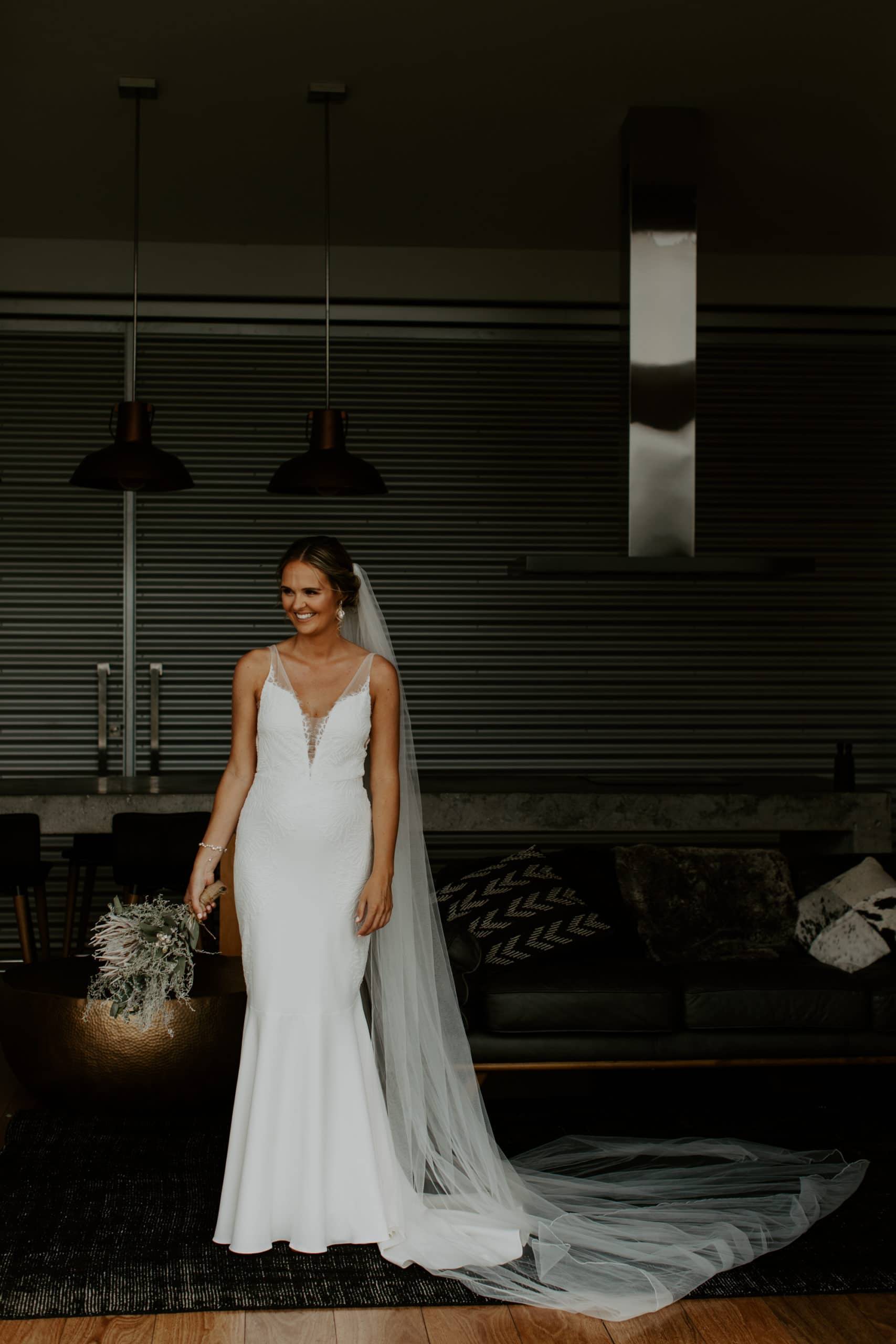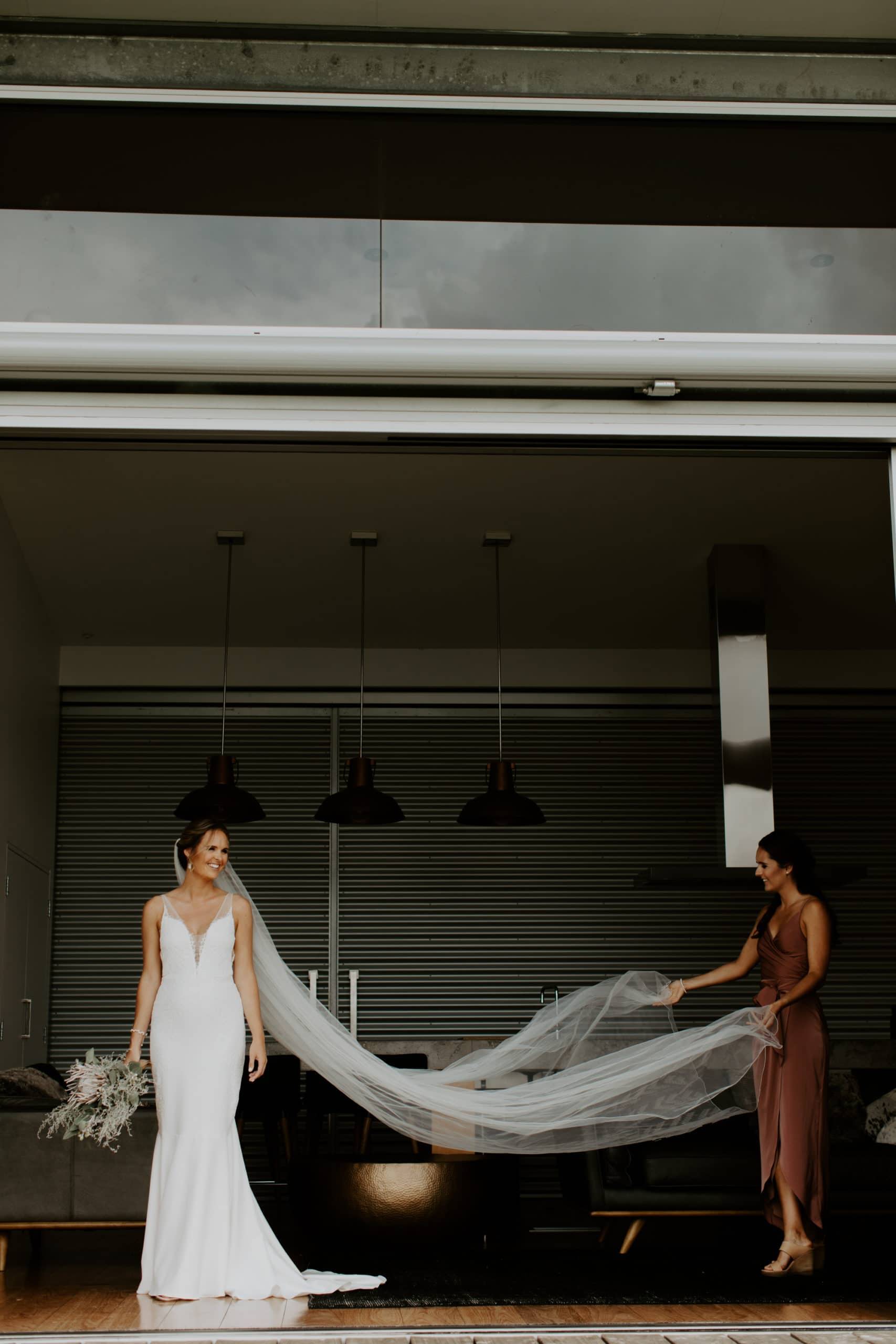 Tell us about your experience when you found your dress, did you buy your wedding dress online or in one of our showrooms?

I had an appointment in your Sydney showrooms, and might I add, they are spectacular and so on point. As you know, you get to choose 5 dresses and after seeing 'Lena' online, I sort of had my heart set on that from the start, so I tried that on last to keep an open mind with the other dresses, but honestly, I couldn't even tell you what other ones I tried on, because it didn't matter as soon as I had 'Lena' on. We also had a very short engagement (just under 4 months) and your staff couldn't have been more helpful in ensuring that the dress would definitely be ready ahead of our wedding day. It arrived only 8 weeks later which was exceptional!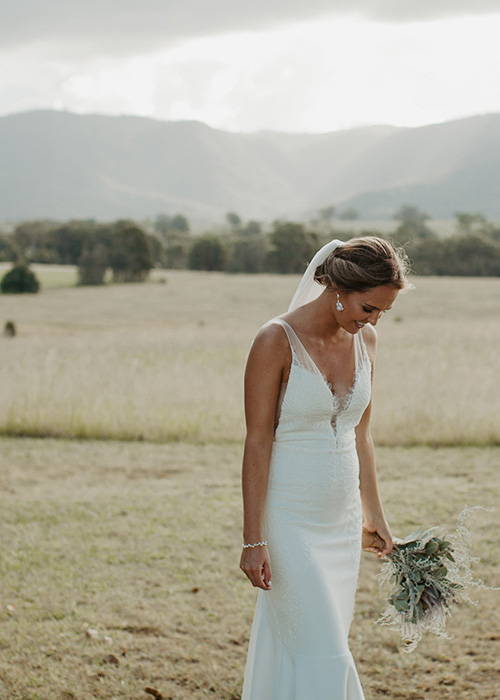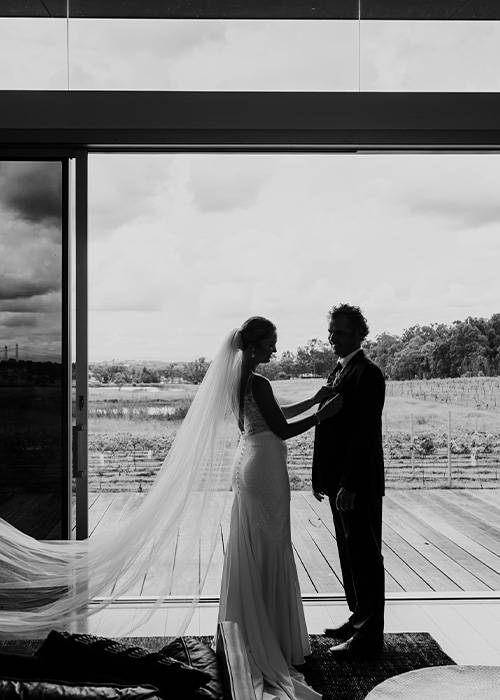 How did you feel in your dress on the day?
Just after purchasing the dress, we found out I was pregnant. I was so glad to have chosen a dress that was stretchy and not restricting (and it somehow managed to fit even at 19 weeks pregnant).
Putting it on with my family around, make-up and hair done, jewelry on, it is a pretty special feeling, a cross between an absolute rock star and a princess. Then walking down the aisle towards my husband, honestly, nothing else mattered. The way the dress fit me, it gave me a confidence I haven't felt before (or since) and my dad literally had to hold me back so I didn't run down the aisle!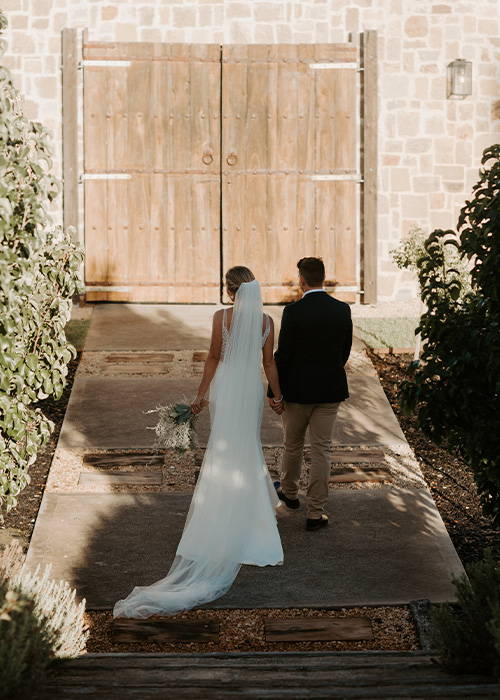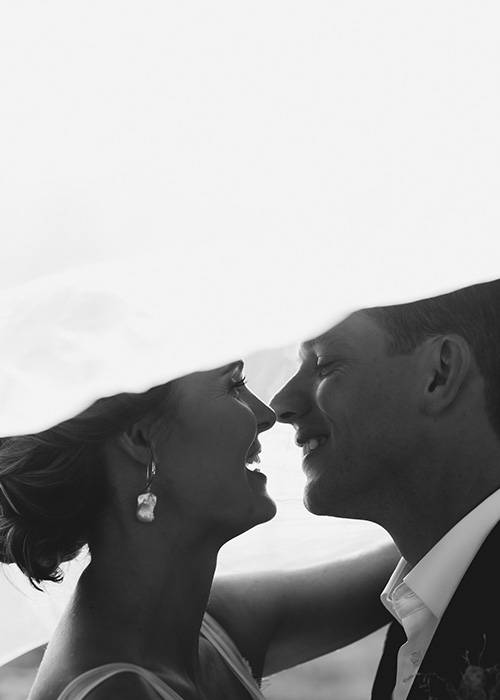 Where did you get married?
Tell us about the location & the style of your wedding day.
We got married at Bimbadgen Estate, Palmers Lane in the Hunter Valley, close to my family so that my grandparents could be a part of our day. We did all of the decorating ourselves, sourcing (or rather foraging) the flowers and foliage locally and tried to keep the style as simple and clean as possible.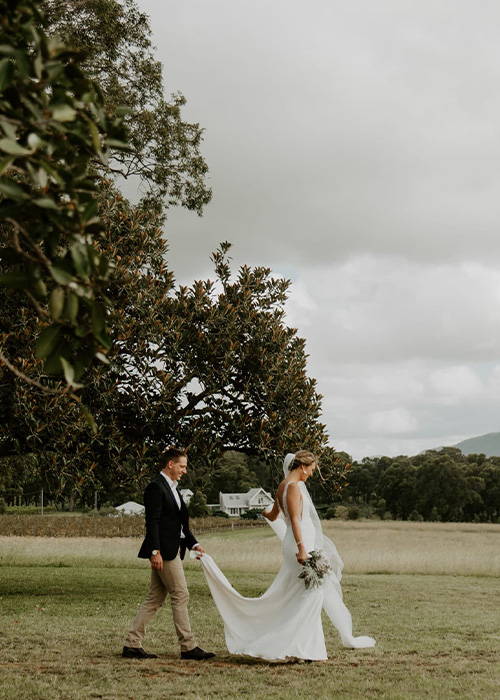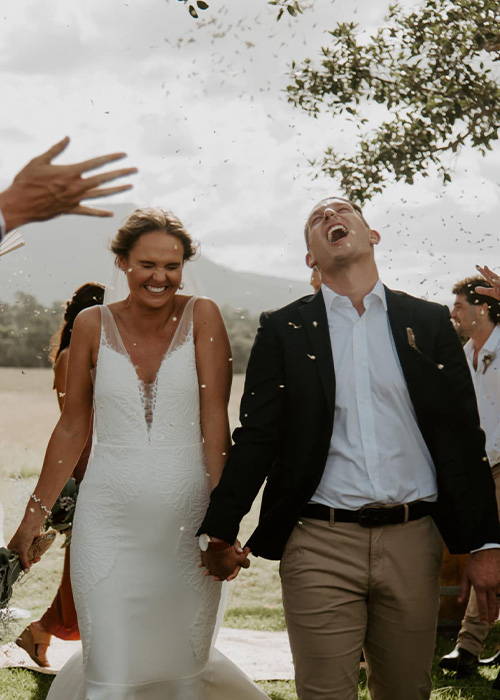 Tell us about your hair and makeup look
and the accessories you chose…
I used the Henri veil and the Gaia earrings paired with a heirloom pearl bracelet to create a classic look, with my hair pulled back into a simple twisted bun and natural makeup completely the look.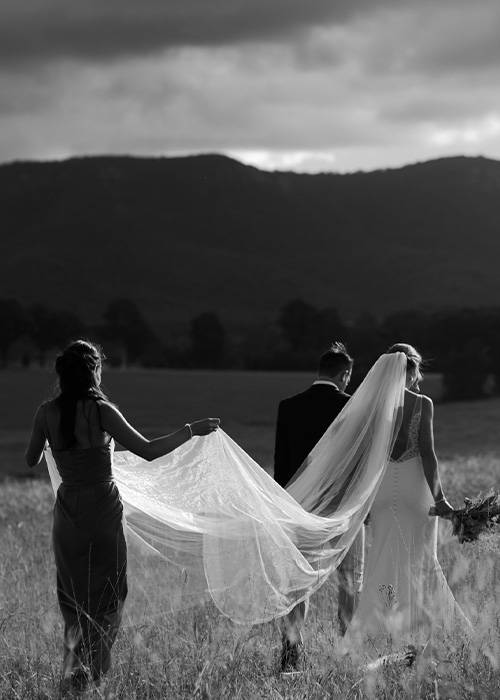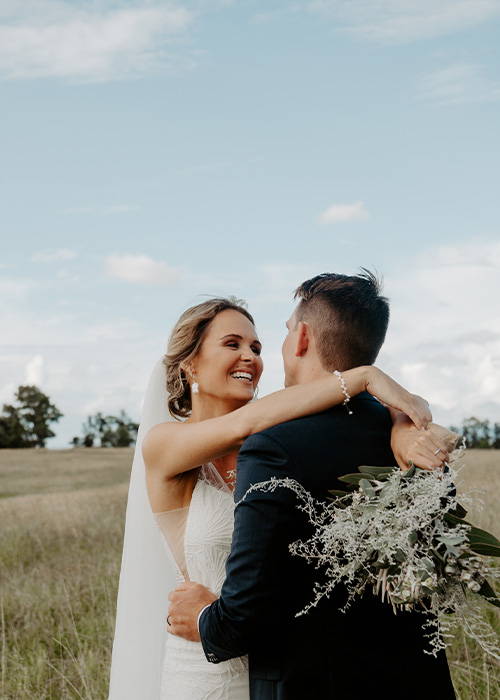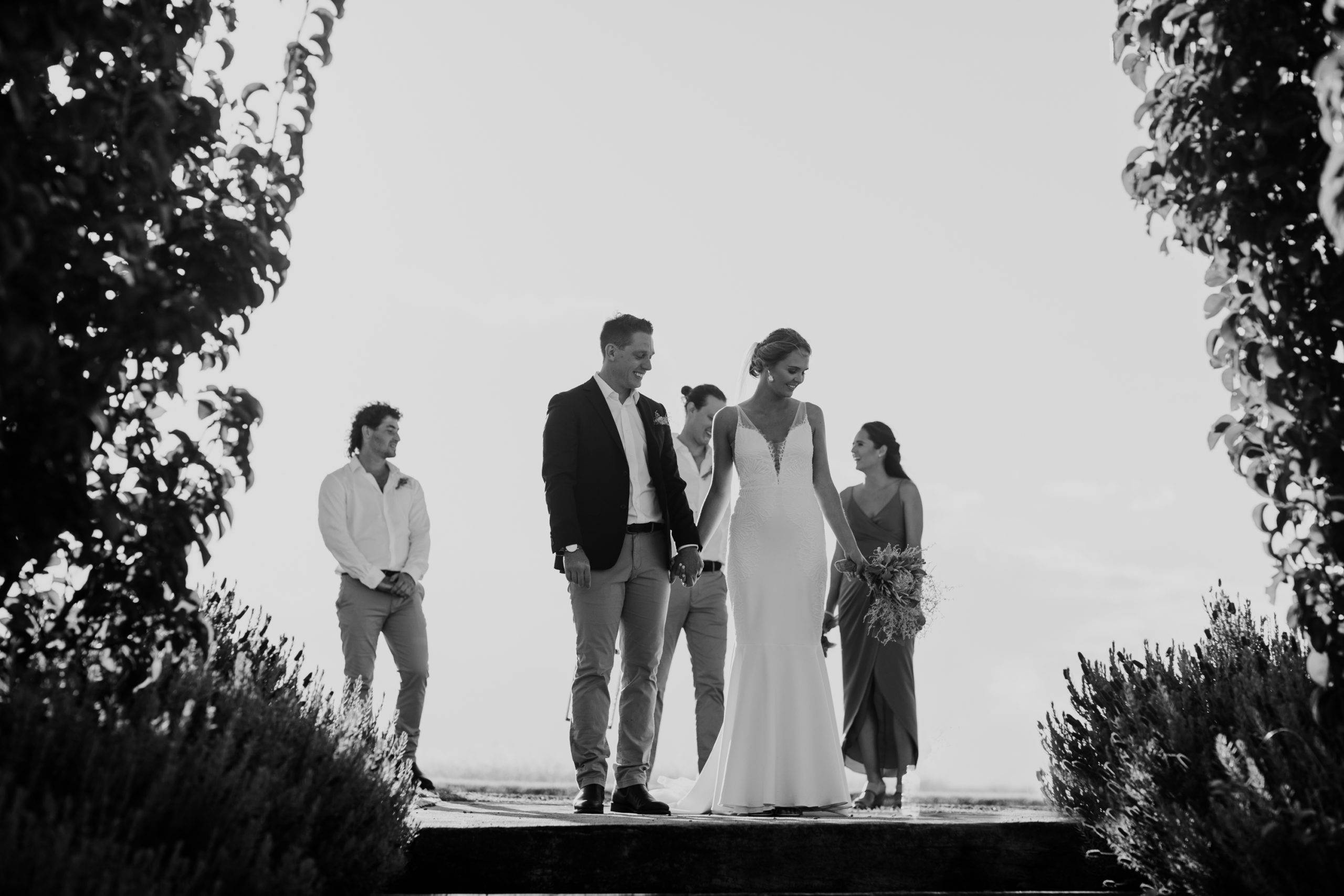 What made your day extra special?
My husband and I decided to have our grandma's sign our wedding registry as the witnesses. It was a lovely moment when they both got up and were able to directly participate in our wedding ceremony!
The funniest moment on the day was…
For a change, I was running super on time while the boys were running incredibly late! The best man, just before the ceremony cut himself shaving, managing to get blood down his white shirt and as you know, facial cuts bleed, a lot, continued bleeding throughout the entire ceremony so had to stand there with a tissue held to his face! When I figured out what had happened, I burst into laughter mid ceremony!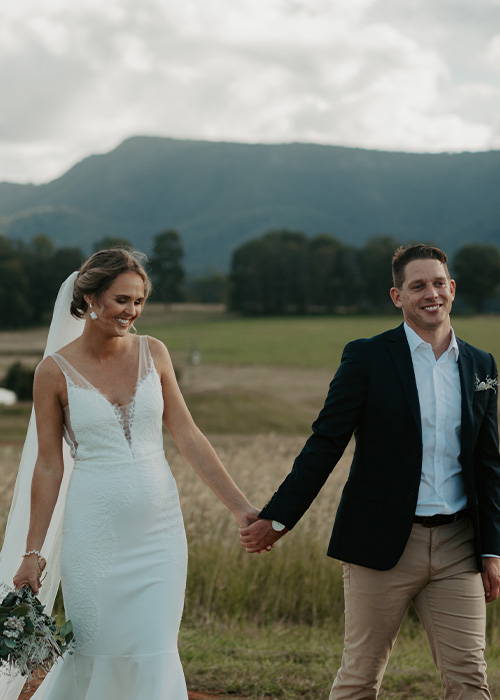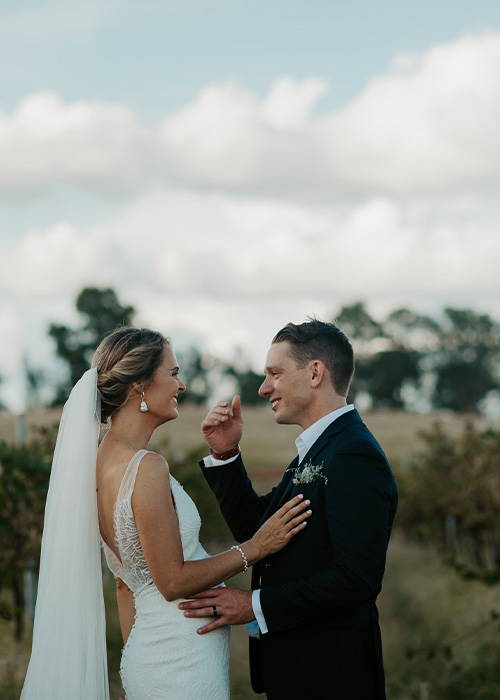 Where will you be honeymooning?
Unfortunately a honeymoon isn't on the cards at the moment as we are busy preparing for the arrival of our first baby in July, I am hoping the sneak a honeymoon/babymoon in, but we will be keeping it very local due to the unpredictability of COVID.
Any last advice or words of wisdom that you can share…
Buy a GLL dress. I can't recommend it highly enough. They are even better in real life then they are in the pictures, the customer service team are great, the fit is exquisite and they are on time.



THE BRIDE WORE: THE LENA GOWN, HENRI VEIL AND GAIA EARRINGS
THE GROOM WORE: TOMMY HILFIGER PANTS AND SHIRT
PHOTOGRAPHER: KATY FROM ROPE AND PULLEY
VENUE & CATERING: BIMBADGEN ESTATE, PALMERS LANE, HUNTER VALLEY, NSW
FLORIST: DIY
HAIR & MAKE UP STYLIST: JOLIE HAIR AND MAKEUP